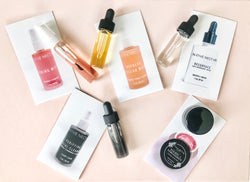 Native Nectar Botanicals
Skincare Samples
These samples are the perfect way to try out Native Nectar skincare. Each sample contains enough product for multiple uses. 
Products available in sample size include:
Purifying Charcoal Cleanser
Refresh Micellar Cleansing Water
Clear + Glow Complexion Serum
Daily Glow Hydrating Serum
Youth Glow Preventive Serum
Resurface AHA Liquid Exfoliant
MultiVitamin Serum
Pure Hyaluronic Serum
Rose Revival Cream
Brighten Toning Mist
Balance Toning Mist
Wild Rose Botanical Body Oil
Golden Milk Glow Facial Mask
Clear + Glow Facial Mask
Youth Glow Facial Mask
Pumpkin Peel Mask
For more information on each of these products, please visit the product page. 
You can rest assured that Native Nectar Botanical products are free from: animal testing, parabens, formaldehyde donors, phthalates, sulfates, palm oil and fillers.